Proud to be Aquascot
Responsibly sourced, nourishing and delicious fish from passionate people in the Scottish Highlands – this is our story.
Our History
Aquascot's history is certainly a story of ambition and innovation, but also one of dedication and resilience.
We are now one of the largest employee-owned businesses in Scotland and one of the UK's major seafood processors. Our unconventional story is reflective of the business we have become – we are shaped by our experiences and the immense commitment of the people who live and work here.

Our Community
Our successes come from our people, our people come from our local community.
Aquascot is a major employer in this region of Scotland, and we take that responsibility very seriously. The importance we place on the success and prosperity of this community is based on our knowledge that it takes more than a job to make a happy, healthy lifestyle.
As an employee-owned business, every achievement on our journey is an achievement shared by all.
LATEST NEWS
Leadership Team
Working closely with our Partnership Council, the Leadership Team are responsible for the ongoing growth and prosperity of the business – while ensuring we hold true to our core values.
As an employee-owned business, the relationship between our partners and the LT is collaborative, productive and attuned to the needs and ambitions of everyone who works for Aquascot.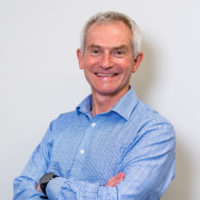 John Housego
Managing Director
With service as a Non-Executive Director since 2008 on the Aquascot Trust Board, John joined the Aquascot executive team in March 2020.
John has over 30 years of experience in various leadership positions within global businesses as diverse as medical products, textiles, plastics and graphics arts film, with 22 years within an Employee-Owned business. He is a passionate champion for engagement at work, especially in the Employee-Owned sector, and sits on the board of Scotland for Employee Ownership Industry Leadership Group.

Favourite product: Lightly Smoked Salmon Fillets
Simon Wrench
Finance Director
Simon joined Aquascot in July 2019. He brings 20 years of finance experience from a background in financial services and latterly in the food & drink sector.
Working in partnership with the Aquascot Leadership Team he shapes the future direction and long terms plans for Aquascot. Day to day his focus centres on maximising business efficiency through planning as well as challenging and improving existing performance, processes and systems.
Favourite product: Lightly Smoked Salmon Fillets
Andy Wilson
Commercial Director
One of the latest additions to the business, Andy joined Aquascot in January 2019. He leads our Innovation team, tying together Commercial and NPD thinking.
His 20 years of retail experience, from supermarket shop-floor through to Senior Buying Manager, brings a valuable insight to the team.
Favourite product: Thai Salmon Fishcakes with Sweet Chilli Sauce
David Chapman
Head of Procurement
With a background in IT and technology & knowledge transfer, David spent almost a decade working very closely with businesses across the Highlands and Islands and helping them to develop and innovate through linking with Scottish universities. Some of the most exciting companies and projects to work with were in the food & drink sector, so when the opportunity arose to work with one such company, David jumped at the chance.
David joined Aquascot in 2013 as part of the Commercial team before going on to head up that department until early 2019. Since then, he has headed up the Procurement function and he and his team are responsible for the purchasing and planning of all fish, packaging, ingredients, utilities and consumables for the business as well as additional supply chains into retail customers. His previous experience in sales means he is acutely aware of the customers' demands and expectations of always having the right material available at the right time.
Favourite product: Rosemary & Garlic Salmon Fillets
Andrew Davie
Head of Aquaculture
With over 20 years of experience in Aquaculture research and development and education, Andrew is Aquascot's eyes and ears across both the salmon and trout supply chain and into the heart of the Waitrose Ethics and Sustainability team. His role champions a collaborative working environment promoting values and creating change around fish welfare, environmental impact, feed sustainability and fish farm worker safety.
Sitting at the heart of the Aquascot 'HUB', Andrew's department works to understand their core customer's ambition and translate that into action on up to 200 farms across the Aquascot portfolio. Informed by his team's 'feet on the farm' assessments along with extensive connections with academia, industry bodies, regulatory authorities, NGOs and a range of 3rd party certifications, Andrew seeks to assure that the farmed salmon and trout sourced for Waitrose exceeds their Environmental & Sustainability expectations.
Favourite product: Thai Marinade Salmon Fillets

Anne Allen
Head of Human Resources
Anne joined the Aquascot team in 2015. She began her career in London and has worked mainly with HR, in the retail and manufacturing sector. In her current role, she is accountable for driving improvements through a range of 'people' initiatives, with the welfare of partners at the core of the 'People Strategy'.
Favourite product: Lightly Smoked Salmon Fillets
Rachel Hannah
Head of Technical
Leading the technical team, Rachel is responsible for the organisation's food safety management system and shapes the technical strategy. She oversees all food handling and associated technical support processes with respect to food safety and quality. Rachel joined Aquascot in 2016, as Compliance Manager, following a move back to the Highlands where she grew up.
Rachel was elected to be Chair of the Partnership Council in 2018, and has worked to improve its profile and effectiveness, ensuring that all partners have a voice. She is also a Non-Executive Director on the Industry Leadership Group, Scotland for Employee Ownership.
Favourite product: Salmon En Croute with Spinach & Cheese
Healthy, Sustainable, Tasty Snacks
Aquascot's sister company SHORE — The Scottish Seaweed Company — produce an award-winning range of seaweed chips, clusters, pestos and tapenades.
Now stocked in supermarkets and retail chains across the UK and Europe.
OPPORTUNITIES
We offer career progression, training and a real stake in our success.
Whether you're joining us as a Production Operative in our processing facilities, as an Aquaculture professional or as part of our administrative office team — every Aquascot partner employee has a share in the ownership and direction of the business.
Working together for continuous improvement, Aquascot career paths promise plenty of training, opportunities to advance and an array of benefits to support good work-life balance.
FIND OUT MORE